Group protests nuclear weapons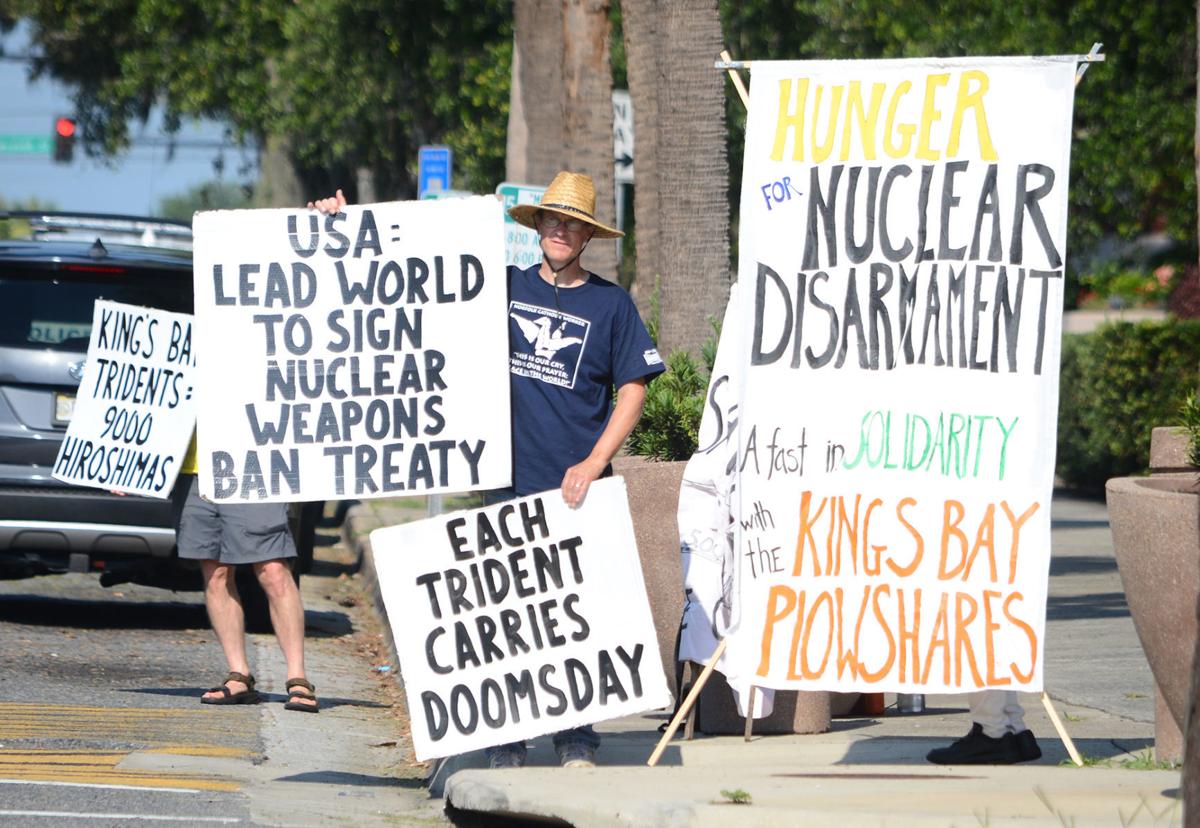 Steve Baggarly protests outside the Frank M. Scarlett Federal Building in downtown Brunswick Wednesday with other members of the Kings Bay Plowshares, a group protesting nuclear weapons.
Peace activists held signs calling for nuclear disarmament in the stifling heat Wednesday morning in front of the federal building in downtown Brunswick where seven Catholic activists will stand trial for cutting their way into Kings Bay Naval Submarine Base on April 4.
Wednesday was also the third day of a fast they started at Kings Bay on Monday, the first of five straight days of peaceful "public presences" during which they held signs asserting that the base subs carry doomsday weaponry and handed out information packets. They demonstrated in front of the Glynn County jail Tuesday morning.
As the morning temperatures headed toward 90 degrees, Ken Jones of Asheville, N.C., stood in the shadow of a cloth banner proclaiming the "Hunger for Nuclear Disarmament" fast.
Much of the world's attention is on the nuclear capabilities of North Korea, but that is mostly displaced, Jones said.
"What [Americans] may not realize is we are the predominant nuclear power of the world and we are the largest threat to the world,'' he said.
Another sign said that the nuclear weapons on King Bay's fleet of submarines has the power of 9,000 of the bombs dropped on Hiroshima at the end of World War II.
Steve Baggarly, a former plowshares activist and fast participant, said that most of the world is growing weary of being held hostage by nuclear weapons and want nuclear disarmament. Beth Brockman handed out copies of a treaty to prohibit nuclear weapons that, she said, 122 nations have signed. Nikki Haley, the U.S. United Nations ambassador, led a walkout and the U.S. and eight other nations with nuclear weapons boycotted the treaty negotiations, Kings Bay plowshares said.
Four
[actually three]

of the eight

[actually seven]

charged with trespassing onto Kings Bay are free while four remain in jail awaiting their next court appearance. Patrick O'Neill, who has been released, said he is participating in the fast and preparing for trial by meeting with lawyers, although that is difficult with some still in detention.
In writing a defense motion, the defendants want to get back onto the base escorted by military security, O'Neill said.
"We'd like to see the repairs they made. They said we did $30,000 in damage,'' he said.
He and the other trespassers are devout Catholics and are not denying they were on the base.
"Not only did we acknowledge it, we filmed it,'' O'Neill said. "We filmed ourselves hammering on the monument and cutting the fence."
The monuments are concrete replicas of the armaments on the Trident subs, he said.
They spray painted them with the word "Idol'' among other things and threw their own blood on them, O'Neill said.
"Blood goes a long way when you splatter it. Blood is a very powerful symbol,'' he said.
He called the fast a public witness for the plowshares and a "prayer offering redemptive of our Christian faith."
Kathy Kelley, a member of Voices for Creative Nonviolence, said the activists will be back in the fall. In September, they will march from Savannah, where defense contractor General Dynamics has offices, to Kings Bay, she said.
O'Neill and the other six defendants are charged in an indictment with conspiracy, destruction and depredation of government property and trespass. They are due in court for a motions hearing Aug. 2.
© Copyright 2018 Brunswick News Publishing Co.
"The master class has always declared the wars; the subject class has always fought the battles. The master class has had all to gain and nothing to lose, while the subject class has had nothing to gain and everything to lose--especially their lives." Eugene Victor Debs